NBC Studio Tour

In July 2012 NBC closed it's doors for the NBC Studio Tour in Burbank.
They have sold the property and moved their operations to the nearby
Universal City Hollywood Studios.
I am going to leave this page up for awhile for anyone who is interested.
If you'd like to take a Studio Tour, please check out these locations.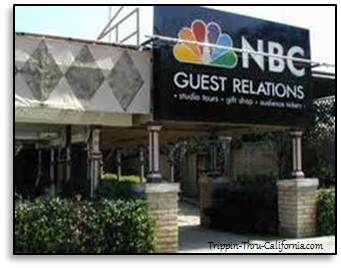 The NBC Studio Tour, The home of the peacock!
The NBC Studio Tour is located in, "Beautiful Downtown Burbank." This town houses many media and entertainment companies, as well as production facilities. Getting there is easy.
3000 West Alameda Avenue Burbank, CA 91523
---
818-840-3537 Number is no longer active
This phone number will give you these options:
Info on tickets for "The Tonight Show" with Jay Leno
Studio Tour Info
Address
Parking Info
Group Tours
Or you can speak to a representative

For Studio Memorabilia, check out the
HOLLYWOOD MEGA STORE : Your Studio Superstore !
Admission Price:
$8.50 - Adults
$7.50 - Seniors (60+)
$5.00 - Children (5-12)
FREE - to children under 5
The Tour is a 70 minute walking tour. Bring good walking shoes and plenty of energy.
Hours: The Tour runs Monday through Friday from 9:00am to 1:00pm. They are closed on Saturdays and Sundays except during peak summer and holiday seasons, but again, please call ahead of time to be sure. 818-840-3537
Reservations are required for groups of 18 or more only.
What you'll see: NBC is the only network that opens its doors to visitors! Your tour guide will take you through the working studios so you can see how television shows are made and produced. This tour is great and exciting for anyone who loves television. You'll make a stop at The Tonight Show set where Jay Leno tapes his late night show, Days Of Our Lives soap opera sets and other sets that are currently being used for filming.
You'll also be able to go behind the scenes to see where the stars do their hair and makeup before filming, wardrobe, set building and props. If your lucky, you'll get a tour guide that sprinkles in fun facts, like Jay Leno owns about 150 cars and motorcycles. Then he takes you out to the parking lot to show you the car Leno drove to work that day. That's awesome!

---
Click on each Hotel to find the best deal, compare prices, and read what other travelers have to say about these. I have not personally stayed at any of these hotels so please read the reviews before booking your trip.
BEST WESTERN PLUS Media Center Inn
Burbank Inn & Suites
Coast Anabelle Hotel
Courtyard by Marriott Los Angeles Burbank Airport
Extended Stay America - Los Angeles - Burbank Airport
Hampton Inn & Suites Los Angeles Burbank Airport
Holiday Inn Burbank
Hotel Amarano Burbank
Los Angeles Marriott Burbank Airport
Portofino Inn Burbank
Quality Inn
Ramada Inn Burbank Airport
Residence Inn Burbank Downtown
Safari Inn
Tangerine Hotel
Travelodge Burbank-Glendale
---
---
Go Back to All Studio Tours from NBC Studio Tour

Thank you for visiting Trippin' Thru California! Hope you enjoy discovering new "things to do" and "fun places" as much as I do!


Welcome to California!