Paramount Studios
VIP Tour Hollywood
The Bronson Gate Entrance at Paramount Studios is one of the most photographed features.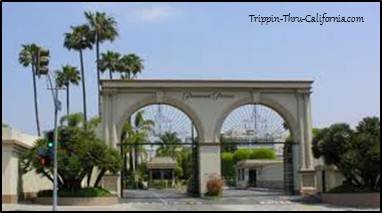 This gate has been featured in many movies and dates back to the early days of the studio. It is aligned so that the famous "Hollywood sign" can be seen directly through it. They are located at 5555 Melrose Avenue in Hollywood, California.
To find these historic archways just type in your starting address.
---
Advanced Reservations Only!
Reserve your tickets by calling 323-956-1777
Tickets are $45.00 and you must be at least 12 years old.
Have you considered a Sightseeing Pass to save money? Click here to compare passes. CityPASS or Go Card?
This is a two hour tour It runs Monday through Friday, at 10am, 11am, 1pm and 2pm. Closed on weekends and holidays. Due to the spontaneous nature of production, tours will vary. You'll ride around in an 8-10 person golf cart from set to set, although there is a bit of walking on some of the sets, and you'll see where some of the most celebrated motion pictures and TV shows were made. Be on the lookout for celebrities!
For Studio Memorabilia, check out the
HOLLYWOOD MEGA STORE : Your Studio Superstore !
The Studios at Paramount's New York Street / Backlot encompasses a 5-acre site and recreates eight distinct areas of the city. Brooklyn, Brownstone, Financial District, Greenwich Village, Lower East Side, SoHo, Upper East Side, and Washington Square.
They also have the Chicago Section of the backlot, which resembles common architectural styles found in the Midwest. At several stories tall, the facades in each and every section create an authentic urban atmosphere perfect for capturing the excitement and drama that New York and other major metropolitan areas provide (even when they're in Hollywood).
Movie and television productions filmed at Paramount Studios: C.S.I. New York, Mr. and Mrs. Smith, Along Came Polly, Fat Albert, Frasier, Losing Isaiah, Everybody Hates Chris, America's Next Top Model, Charmed, Boston Public, Mission: Impossible III, 24, Nip/Tuck, Yes Dear, The Practice, Ally McBeal, Jake in Progress, One on One, Navy NCIS, Judging Amy, JAG, Daredevil, Hallmark's Silver Bells, Becker, Close to Home, Elizabethtown, Seinfeld, Monk, Barbershop, Vanished, My Boys, American Idol Music Videos and lots and lots of commercials!
---
Click on each Hotel to find the best deal, compare prices, and read what other travelers have to say about these. I have not personally stayed at any of these hotels so please read the reviews before booking your trip.
Budget Inn Hollywood
Days Inn Hollywood/Universal Studios
Econo Lodge Hollywood
Economy Inn Hollywood
Hilton Garden Inn Los Angeles/Hollywood
Hollywood Celebrity Hotel
Hollywood Hotel
Hollywood Roosevelt Hotel - A Thompson Hotel
Hollywood Studio Inn & Suites
---
Go Back to All Studio Tours from Paramount Studios

Thank you for visiting Trippin' Thru California! Hope you enjoy discovering new "things to do" and "fun places" as much as I do!


Welcome to California!