Warner Bros. Studios
VIP Tour - Burbank

Studio Tours begin with a special introductory film to the world of Warner Bros. at the VIP Tour Center. Groups of about 12 pile onto electric carts that take them onto the studio lot for an exclusive tour through one of Hollywood's most famous television and motion picture studios.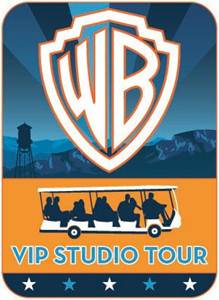 In the past I recommended that you call the Studio directly to get tickets. You still can if you want to pay full price for tickets. The phone number is listed below. I'd list it here but too many people over-look all this text to get to the phone number.
You can save a lot of money by getting your tickets with a Sightseeing Pass. It's worth your while to check it out. Click this link and scroll down to the Los Angeles Go Card, The Warner Bros Tour is included and BOOM! You just saved a bunch of $$. Click on any of the images or text links to take you to savings on multiple parks! Please read the full disclosure below.

---
Four Tours Available:
VIP Tour
Deluxe Tour
Group Tour
Spanish Tour
Advance tickets are recommended, otherwise, tickets are sold the day of on a first-come, first-served basis. Space is limited to 12 per cart.
For Studio Memorabilia, check out the
HOLLYWOOD MEGA STORE : Your Studio Superstore !

---
VIP Tour
Departs: Mon-Fri at a bunch of different times throughout the day. First tour starts at 8:20am and the last tour of the day starts at 4:00pm.
How long is the Tour? It's about 2 hours and 25 minutes.
Cost: $49.00 per person.
The VIP Tour starts at the Warner Bros. Tour Store and Center. There you'll find a Ciao Bella gelatoria, Starbuck's Coffee and a WB Gift Shop. The Studio Plaza Café is next to the Tour Center where you can have breakfast or lunch among studio personnel.
Now you're ready to start your journey through the historic back lot. You'll probably recognize some of these locations from some of yesterday's and today's most popular film and television series.
You'll see Hennesy Street's urban city exteriors, Midwest Street's quaint town square and the Jungle's forested lagoon.
Hollywood's only Studio Museum is the Warner Bros. Museum. You'll browse a rare collection of sets, props, costumes, scripts and correspondence. You'll see stage 16 which is the tallest sound stage in North America. And with the magic of Green Screen, you can even place yourself into one of your favorite WB's movies!
Don't blink! Keep your eyes peeled and always be on the lookout for a star! With actual production and filming all around, no two tours are alike and the possibilities are endless! You never know what or who you'll see!

Deluxe Tour
Departs: Mon-Fri at 10:20am only
How long is the Tour? About 5 hours
Cost: $250.00 per person
The Deluxe Tour starts out the same way as the VIP Tour starts. The difference here is this tour is led by Warner bros. top tour guides who take you into the craft shops where artisans create costumes, props, sets and more.
You get to talk to key crew people while visiting working production sets. Get an up close and personal look at the magic of movie making and watch as Foley artists create sound effects for TV and film.
Here's the exciting part: You'll dine in the studio commissary where you have the real opportunity to dine with the stars!

---
Group Tour
With a Group Tour you are able to take your club, school or organization on an exciting tour of the Warner Bros. Studio lot. Special accommodations and discount rates are available and can be made to meet the needs of your group. For more info on group tours you can call (818) 977-1943. But again, don't spend more on tickets than you have to.

---
Spanish Tours
Spanish speaking tours are available once a day at 3:20pm Mon-Fri. Advance tickets are recommended for these tours, otherwise, tickets are sold the day of on a first-come, first-served basis.

---
---
Children 8 yrs + are welcome
Please arrive at least 20 minutes prior to the start of the tour for check-in. Adults must present a valid government issued ID (Driver's License or Passport) for entrance to the Studio lot.
Still photography is limited and video filming is not permitted. Personal belongings may be subject to search.
Parking is available for a $7 fee at Gate 6

---
Note: This information was accurate when I published it, but can change without notice. Please be sure to confirm all rates and details directly by calling 877-4WB-TOUR before planning your trip.

Full Disclosure Trippin' Thru California does make a small commission if you purchase a Sightseeing Pass through my links. After all, this is one of the ways I am able to provide you all the free content on this website.
More importantly, being a partner in these programs allows me to offer you special sales and discounts. So often, you will receive a better price than going directly to their website, and you will never pay more. Please know the information provided on this page is unbiased and accurate to the best of my ability.

---
Getting there is easy. 3400 Riverside Drive Burbank, CA 91505
---
Go Back to All Studio Tours from Warner Bros

Thank you for visiting Trippin' Thru California! Hope you enjoy discovering new "things to do" and "fun places" as much as I do!


Welcome to California!