California State
Symbols & Facts
California was the 31st state in the USA,
admitted on September 9, 1850
These  State Symbols and Facts are very interesting. I've pretty much lived here my whole life and never knew some of them.
Nickname: Golden State (named after the discovery of gold)
Residents: Californians
Colors: Blue (for the sky) & Gold (for the gold found)
Song: "I Love You, California"
Dance: West Coast Swing - Originated in CA in the 1930s
Folk Dance: Square Dancing
Fife & Drum Band: California Consolidated Drum Band
Motto: "Eureka" (I have found it) Relates to the discovery of gold
Slogan: "Find Yourself Here"
Geographical Size: 158,706 square miles
Capital: Sacramento
State Abbreviation/Postal Code: Calif. or CA
Number of Counties: 58
National Forests: 18
National Parks: 10
State Parks and Beaches: 278 (1.5 million ac.)
Main Rivers: Sacramento River, Colorado River, San Joaquin River
Tallest Waterfall: Ribbon Falls
Tallest Ship: The Californian
Highest Point: Mount Whitney, 14,495 feet above sea level
Lowest Point: Death Valley, 282 feet below sea level (this is the lowest point in the Western Hemisphere)
Geographic Center: In Madera Co., 38 mi. E of Madera
Bordering States: Oregon, Nevada, Arizona
Bordering Country: Mexico
Bordering Body of Water: Pacific Ocean
Ghost Town: Bodie
Ghost Town (silver rush): Calico
Military Museum: California State Military Museum
Quarter: California Quarter
Tartan: California Tartan
Theater: Pasadena Playhouse
Historical Society: California Historical Society
Beverage: Wine
License Plate: White with "California" in a red script across the top
---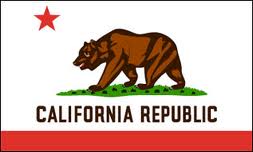 The Official California State Flag, called the Bear Flag, pictures a five pointed star and a grizzly bear over a red bar and the words, "California Republic", which was designed by William Todd. This is a great California State Symbol. The lone star made reference to the lone Star of Texas while the grizzly bear was a symbol of great strength.
It was not officially adopted until 1911 but it was first used on June 14, 1846. This flag was quickly made by a small band of American settlers who had just captured the town of Sonoma (from Mexico) and needed a flag to replace the Mexican Banner. Interesting, huh? The flag only flew until July 9, 1846 when it was learned the United States and Mexico were already at war. The Bear Flag was replaced with the American Flag soon after that.

---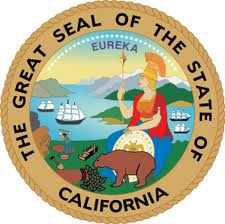 The Great Seal of the State of California was adopted by the Constitutional Convention in 1849. Minerva, the Roman goddess of wisdom, has at her feet clusters of grapes and a grizzly bear representing agricultural richness and wildlife. Below the Sierra Nevada peaks, a miner works near the busy Sacramento River.
There are 31 stars near the upper edge of the seal representing the number of states with California's anticipated admission. California became a state on September 9, 1850 without having to go through a territorial stage, just as Minerva sprung full grown from the head of Jupiter. The seal was designed by Major R. S. Garnett of the United States Army, and proposed by a clerk of the convention named Caleb Lyon.

---
Animal State Symbols:

Bird: California Valley Quail
Mammal: California Grizzly Bear
Marine Mammal: Gray Whale
Reptile: Desert Tortoise
Insect: California Dogface Butterfly
Fish: California Golden Trout
Marine Fish: Garibaldi

---
Plant State Symbols:

Flower: Golden Poppy
Grass: Purple Needlegrass
Tree: California Redwoods (Sequoia sempervirens & Sequoiadendron giganteum)

---
Earth State Symbols:

Rock: Serpentine
Gemstone: Benitoite
Fossil: Sabertooth Tiger (Smilodon fatalis)
Prehistoric Artifact: Chipped Stone Bear
Mineral: Gold
Soil: San Joaquin Soil

---
10 Largest Cities: largest first

Los Angeles
San Diego
San Jose
San Francisco
Long Beach
Fresno
Sacramento
Oakland
Santa Ana
Anaheim

---
Famous Californians:

Dave Brubeck (musician)
Julia Child (chef)
Joe DiMaggio (baseball)
John Fremont (explorer)
Robert Frost (poet)
William Randolph Hearst (publisher)
Anthony Kennedy (US Supreme Court)
Jack London (Author)
George S. Patton (General)
John Muir (naturalist)
Richard Nixon (President)
Marilyn Monroe (Actress)
Robert Redford (actor)

Father Junipero Serra

(missionary)
Upton Sinclair (author)
John Steinbeck (author)
Shirley Temple (actress & ambassador)

---
Famous For:

National Parks
Golden Gate Bridge
Mountains
---
Go Back to Trippin' Thru California's Home Page from State Symbols and Facts

Thank you for visiting Trippin' Thru California! Hope you enjoy discovering new "things to do" and "fun places" as much as I do!


Welcome to California!