So what is Varietal, anyway?
Here's the definition of Varietal… a wine made principally from one grape carrying the name of that grape. So in other words, the grape names the wine! Any one grape can become a wine itself, or it can be combined with another variety or even several varieties.
Okay, so now you're thinking…
What's the difference between
Varietal and Variety?
By not getting too technical…

The grape name is a varietal
The grape itself, is a variety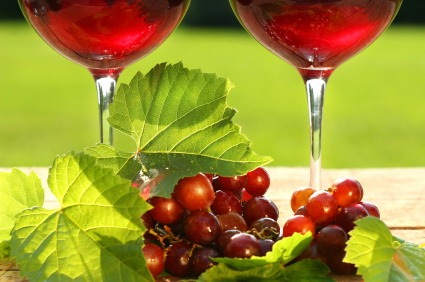 Don't get too hung up on this, chances are the conversation won't even come up. But if it does, you can catch your favorite wine-snob-know-it-all in an error.
A wine that is named after its sole or dominant grape is a varietal wine. That's the main type of wine California produces. (types of wine) Take a look at the label of a bottle of California wine. The name of the wine, (most of the time) tells you which grape is the dominant one in that bottle. So you pretty much know what you're drinking.
It used to be that a wine had to have at least 50% of the dominant grape variety to carry that grape name. Today, U.S. federal regulations dictate that a wine must derive at least 75% from the variety that's named on the label. I think that's great! Even better!
Usually, cheaper wines have more grape variety in them. It's mostly because of the cost of grapes and flavor appeal for the mass market. Let me explain. Winemakers skillfully engineer the taste of every inexpensive, mass market wine so it will appeal to as many wine drinkers as possible.
Tweaking the taste of other types of grapes with the popular named wines is a valuable tool for winemakers, making it distinctive from that of other brands of wine. Is that a bad thing? No, not at all. Just means there are more wines to taste!
Most California wines are made with more than one grape variety. It enhances their taste. Merlot and Cabernet Sauvignon are classic examples: Most Cabernet Sauvignon wines contain some Merlot, and most Merlot wines contain some Cabernet Sauvignon. A bit of Cabernet helps Merlot wine more substantial and a bit of Merlot nicely softens a Cabernet wine. Does it really matter how many different types of grapes are in that glass of wine you're drinking? (No, it doesn't) Do you like the taste of it? Then who cares! Cheers!

What if a wine doesn't have a varietal name?
That's okay! The wine name concept has dug deep into the American wine-buying culture and the California wine industry so much so that probably 95% of the California wines you see on the shelves in stores today carry a varietal name on their label.
But not every bottle wears such a label. For example: Turnbull Wine Cellars in Napa Valley produces a wine called, Old Bull Red. (No varietal name here). It contains, in the 2006 vintage, 2% Syrah, 5% Cabernet Franc, 6% Barbera, 9% Cabernet Sauvignon, 16% Sangiovese, 18% Tempranillo and 44% Merlot.
Another example of blending, is Sparkling Wines. California's finest sparkling wines are mainly blends of approximately equal amounts of Pinot Noir and Chardonnay grapes. They are absolutely delicious.

Popular Varietals
White Wine:
Red Wine:
---
Go Back to California Wine from Varietal

---
Thank you for visiting Trippin' Thru California! Hope you enjoy discovering new "things to do" and "fun places" as much as I do!


Welcome to California!