San Francisco Beaches
Sand and the City!
San Francisco Beaches include:
Aquatic Park Beach
Baker Beach
China Beach
Chrissy Field Beach
Fort Funston Beach


James D Phelan Beach
Lands End Beach
Marina Green Beach
Ocean Beach

Ocean Beach is the largest beach in San Francisco, taking up the entire west side of San Francisco and offering a panoramic view of the Pacific Ocean. This beach with its rolling sand dunes forms the interface between the City and the Pacific Ocean. Although it is a quiet beach, it is not unpopulated.
San Francisco Tours and Attractions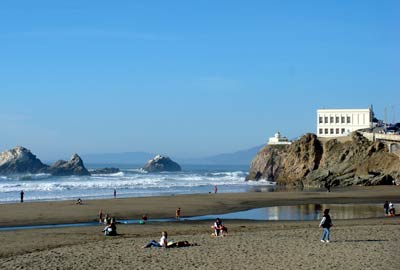 Ocean Beach is the premier beach in San Francisco stretching about 3.5 miles along the Pacific Ocean from the Cliffhouse near the mouth of San Francisco Bay south to Fort Funston. Easy access from the Great Highway by car, bus and bike; and receives more than 100,000 visitors per year.
Activities include: body surfing, kayaking, surfing, boardsailing, sun bathing, cook-outs, wading, dog-walking, strolling and picnicking. General swimming and wading are discouraged because of the strong rip currents and cold water temperatures. Certain stretches are off limits to dogs because the beach provides important resting and foraging grounds for migrating snowy plovers.

---
Baker Beach is located just on the western side of the Golden Gate Bridge, providing the best ocean view of the most famous San Francisco landmark and is easily accessed along hiking trails or by car from Lincoln Boulevard. It is also the most crowded because of its striking view.
Baker Beach - A Nude Beach? Yep, it is known by many as the nude beach. But only part of Baker Beach is used for nude recreation. If you take your clothing off, stay north of the Hazardous Surf sign or the rangers may cite you. There are more women than before on Baker Beach and the crowd is getting younger, on average. It still gets crowded on hot days, though and you'll find some gawkers and lots of clothed users.

The surf can be dangerous and if you decide to climb over the rocks on the north end, keep an eye on the tide so you don't get trapped. This beach can be foggy in the morning, and sometimes all day long. Picnic tables, restrooms and grills are available in the clothed section.
General swimming and wading is discouraged due to the cold water temperatures and strong tidal currents. Baker Beach is great for playing Frisbee, hanging out and sunbathing. Also great for fishing, although fisherman are usually clothed!

---
China Beach Also know as East Beach, gets its name from the history of Chinese fishermen who camped here in past days. This is one of the safest San Francisco beaches for families, with shallow waters for the kids to play in and lifeguards on duty during the summer. It is located in Pacific Heights, at the intersection of Seacliff and 28thAvenue.
Spending time at this section of shoreline is incredibly enjoyable. There are picnic areas with grills available for people who want to spend the day with family and enjoy some barbecued food.

---
---
---
Go Back to California Beaches from San Francisco Beaches

Thank you for visiting Trippin' Thru California! Hope you enjoy discovering new "things to do" and "fun places" as much as I do!


Welcome to California!