San Diego Beaches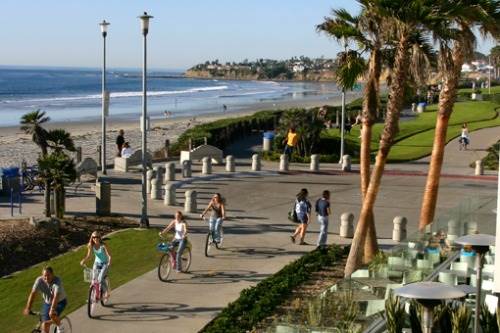 San Diego Beaches attract people to a city that is already bursting with fun places and things to do. There are so many attractions in San Diego, it truly is a Fun Place.
It's famous for its miles and miles of white sand beaches and amazing So Cal weather, not to mention Sea World and the San Diego Zoo.  The beaches include:

Boarder Field State Park
Mission Bay Park
Mission Beach

Ocean Beach City Beach
Pacific Beach
Tourmaline Surfing Park

---
Pacific Beach
Pacific Beach is probably one of the more popular beaches in San Diego. It has earned a reputation in recent years as nothing more than a community of bars and drunk college students, but there is actually more to offer than bars and drinking.
The boardwalk runs approximately 3.2 miles long and there are a bunch of local shops, restaurants and bars. Its generally crowded with shoppers, cyclists, pedestrians and rollerbladers. Adjacent to the boardwalk is a public pier, Crystal Pier.
Night Life? You bet! Pacific Beach caters to a younger crowd than the nightlife in downtown San Diego. Garnet Ave., between Ingraham St. and Mission Blvd., is where many bars and restarants are located.

---
Get 50% Off Theater, Sports, Live Music and More From Goldstar - Sign Up Now!
(Requires an email address)
Mission Beach
Skate This! A local skating club performs dancing and trick skating on traditional skates and rollerblades for free on weekends.
Mission Beach offers courts for volleyball and basketball. Thong bikinis are technically not allowed on this beach but police and lifeguards don't typically enforce the ban.
You'll find that most the bars in this neighborhood are relaxed, beach-style gathering places. Popular places are The Beachcomber, The Sandbar Sports Grill and The Coaster Saloon and Wave House.

---
Tourmaline Surfing Park
Located about a mile north of Crystal Pier, this beach is very secluded. This is one of the true surf hang outs of all the San Diego beaches. Its very popular for sailboarders and surfers year round. Accessible only by a road making its way down a hill from La Jolla Blvd to the parking lot.

---
---
---
Places to stay
There are tons of places to stay in San Diego. Click on these two links to compare prices, find the best deal and please read the reviews before booking your trip.

---
---
Go Back to All Southern California Beaches from San Diego Beaches

Thank you for visiting Trippin' Thru California! Hope you enjoy discovering new "things to do" and "fun places" as much as I do!


Welcome to California!

San Diego Beaches are beautiful, you're going to have a great day!