Marina del Rey
California

The beaches in Marina del Rey California are much quieter than their neighboring beaches, Venice and Santa Monica.  Since there is no boardwalk here,  there is just gorgeous, wide, and what seems like private stretches of sand.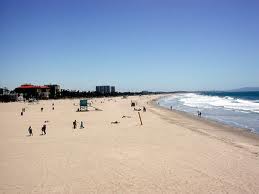 Marina del Rey Beach is a great family beach. There are lots of activities going on here, paddle boarding, people walking their dogs, volleyball and play equipment for kids. There are some restaurants and bars within walking distance which is good because there really isn't a convenient public restroom or food at the beach. Parking over on the Marina side is better and its not that far of a walk.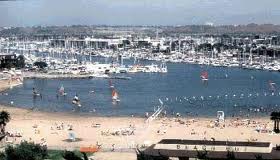 Marina Beach / Mother's Beach is a non-ocean facing beach in the Marina. This beach is great for the little, little ones as there are no waves here. Also great for stand-up paddle boarders! There are plenty of picnic tables in the shade and the parking is convenient and inexpensive.
Dockweiler State Beach is just south of Playa del Rey and features three miles of shoreline including fire pits, over 2,000 parking spaces, a picnic area and an RV Park. Like watching planes take off? This beach lies beneath the takeoff path of the Los Angeles International Airport.

---
Places to stay
The best way to find a place to stay in the area you're looking for is to compare these two travel sites. They both comb through 100s of booking sites across the net to find the best deals possible.
Click on each link, enter your desired destination and traveling dates. Also, its so important to read the reviews for each hotel you are interested in. Just because the picture might look nice, doesn't mean it is!

Or click on a hotel to read more about it, check availability and prices. I went to a wedding at the Ritz Carlton in 2012, this hotel is beautiful with awesome views of the marina!

---
Things to do in Marina del Rey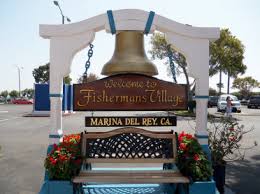 Fisherman's Village is a replica of a New England seaport and fishing town. This place is small but I thought it was very cute. You can rent a bike or a boat, shop for souvenirs, dine outside at waterfront cafes and restaurants and they provide free weekend afternoon concerts. 13755 Fiji Way, Marina del Rey, CA 90292

More Fun Stuff!

---
Getting To Marina del Rey California
---
Go Back to all Southern California Beaches from Marina del Rey California

Thank you for visiting Trippin' Thru California! Hope you enjoy discovering new "things to do" and "fun places" as much as I do!


Welcome to California!