Manhattan Beach
California

| | |
| --- | --- |
| You'll find an eclectic balance of work and play in Manhattan Beach California. After sinking your toes in the soft sand, enjoy an afternoon of shopping, then head on over to one of the many restaurants here to chow down on the finest grub! | |
"Hey! What's that building at the end of the Pier?" That's the Roundhouse Marine Studies Lab and Aquarium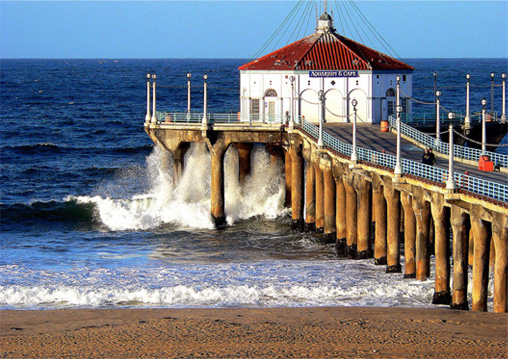 Manhattan Beach has a scenic 928 foot long pier at the end of Manhattan Beach Blvd. Fishing is permitted here all year. It's fun to take a stroll down the pier and look back at the land or just hang out and watch the paddle-boarders and surfers. The pier provides a nice view and a romantic sunset stroll.

---
Places to stay
The best way to find a place to stay in the area you're looking for is to compare these two travel sites. They both comb through 100s of booking sites across the net to find the best deals possible.
Click on each link, enter your desired destination and traveling dates. Also, its so important to read the reviews for each hotel you are interested in. Just because the picture might look nice, doesn't mean it is!

Or click on each Hotel to go directly to the hotel page where you can read the reviews.

---
Things to do in Manhattan Beach
The Strand, basically a street, is a great pedestrian/bicycle path that goes right along the sand through town. It is divided into two sections, the lower sidewalk is for bikes and the upper walkway is for walking. You can go from one end of the beach to the other, passing by some pretty affluent homes. It's a nice walk!

The Roundhouse Marine Studies Lab and Aquarium is the round building located at the end of the Manhattan Beach pier. It's something to check out while you're there. They teach students and visitors about the oceans, the environment and marine life. It's not the best aquarium in California but it's fun to check it out if you happen to be there.

Manhattan Beach Blvd. is where you'll find a bunch of shops, restaurants and eateries and yes, even bars! where even in the afternoon, they are hoppin'. This is a great place for people-watching too as its a pretty busy area. You'll see a lot of people just hanging out down here, having a good time.
AdventurePlex is a facility where kids can learn and play and adults can take fitness classes, eat healthy and they also offer free Wi-Fi. Located at 1701 Marine Ave. 310-546-7708

---
Getting to Manhattan Beach California
---
Go Back to all Southern California Beaches from Manhattan Beach California

Thank you for visiting Trippin' Thru California! Hope you enjoy discovering new "things to do" and "fun places" as much as I do!


Welcome to California!