Why does Box Wine
get such a bum rap?
I'll admit, when it comes to box wine there are a lot of bad ones out there but there are also some pretty good ones as well. Until the mid 1970s, California specialized in making pink, red and white wines that sold in large jug-like bottles at very affordable prices.
They had screw-off caps so you could have a glass or two and then close up the bottle for the next day. Although their sales have declined, you can still find these California jug-like wines in most grocery stores today.
These inexpensive wines are generally categorized as cheap and not of very good quality. Over the past few years, wine producers have decided to overhaul this tarnished image by offering decent, even good wines packaged in a box and calling them "casks."
Today's large-volume, easy-open option is the 3-liter box with a collapsible bag of wine inside and a spigot attached to the bag for easy serving. Box wine is preferred by some wineries because they are less expensive, lighter and more environmentally friendly than bottled wine. They are also easier to handle and transport.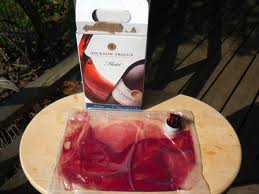 The 3-liter box holds about 4 bottles of wine. When thinking of cost, this is a huge plus. You can find some pretty good quality boxed wine that will cost you on an average about $15.00 a box. Anything under $10.00 is not usually very good.

Boho Vineyards makes a pretty good Cabernet you can get for about $18.00 a box. That's $4.50 a bottle! You can't beat that!
---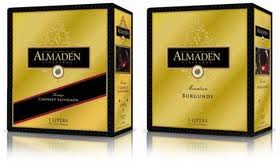 Do you like Chardonnay? Almaden makes one that comes in a 5 liter box. It's not terrible but it's not fantastic either. Turns out to be about $3.00 a bottle! It's light, crisp and easy drinking. Hide the box though because your friends won't believe this wine came from a box! This wine won't blow you away but it's still impressive for a boxed wine.

Some California wines even come in Tetra-Brik packages, which are compact, plasticized paper containers like you see for chicken stock and cooked tomatoes. They are generally about 1 liter in size, which is about 33% bigger than a standard wine bottle. They don't require a plastic bag inside of them to hold the wine.

---
---
Why try Box Wine?
Box Wine lasts longer. Unlike bottled wine which goes bad a few days after opening, boxed wine stays fresh for weeks after opening since the vacuum-sealed pouch does not allow the wine to be exposed to air. In wine snobbery terms, this means it will not oxidize as quickly as a bottled wine, no matter what type of fancy gadget you use to pull the air out of a half-full bottle before re-corking it.
Easier to transport. Wine packaged in boxes are perfect for travel and outdoor activities like barbeques, picnics, camping and RV-ing. The smaller Tetra-Brik packages fit nicely in your RV refrigerator.
Cost. Usually ends up costing you about $2 - $5 a bottle. Easy to drink, they hold more wine, easy to open and reseal, food friendly, better for the environment and they won't break if you drop them!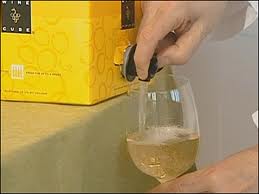 If you still can't convince your wine-snob friends that wines from a box are actually consumable, put it in a decanter before they arrive. They probably won't know the difference.
Unopened boxed wines do have a shorter shelf life than bottled wine. Most boxes will have a "best-before" date stamped on them, so make sure to check that out when you purchase one.
So my bottom line for boxed wine… I don't buy it unless there is a need for it, like camping or certain types of outdoor activities. But even then, I'll open a bottle and put it in a plastic container.
If you are an everyday wine drinker and cost is important to you, then you should try Charles Shaw Wine. It comes in bottles with real corks. You can purchase it at Trader Joe's and it only costs $1.99 a bottle! They call it "Two Buck Chuck."

---
"LOST" Dharma Initiative Boxed Red Wine
I love it! I remember watching this in season 4. This is James "Sawyer" Ford, played by Josh Holloway. The Dharma Initiative placed their labels on a bunch of food and beverage items, box wine as well as bottled wine.

---
The California Wine Club - Handcrafted, Quality Wines from "Mom & Pop" Wineries. No Bulk Wine.
---
What do you think about Wine in a Box?
Do you have a great story about this? Share it!
---
Thank you for visiting Trippin' Thru California! Hope you enjoy discovering new "things to do" and "fun places" as much as I do!


Welcome to California!