Two Buck Chuck?
Not anymore!
Now it's 2 1/2 Buck Chuck!
Yep, that's right, it went from $1.99 a bottle to $2.49 a bottle here in California!
But hey! For a cheap wine that's still pretty cheap!
OK, so here's the story about how Charles Shaw wine (Two and a half Buck Chuck) came about.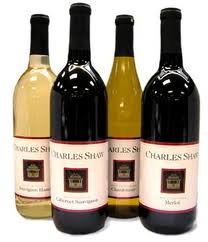 The Two Buck Chuck Story: It all started back in 1893 when Giuseppe and Teresa Franzia emigrated from Genoa Italy to the United States. They bought 80 acres of land in the Central Valley of California in 1912 and had five sons and three daughters. In 1915 they opened the family winery. Teresa made wine on a modest scale until Prohibition in 1917. They lived about a half an hour's drive south of Lodi, where the Mondavi family first lived.
One of their grandsons is Fred Franzia. One of their three daughters, Amelia, married Ernest Gallo, (Fred's Uncle). One of their sons, Joseph, is Fred's father.
Joseph Franzia and Robert Mondavi grew up together, sneaking out to the vineyards to smoke grape leaves, which in those times was a punishable offense.
After the repeal of Prohibition in 1933, the couple's five sons established the Franzia Brothers Winery near the town of Ripon and produced 100,000 gallons of table wine that year.
Michael Mondavi, son of legendary Robert Mondavi, has known Fred since their days at Bellermine College Preparatory in San Jose, the Jesuit high school long favored by families of prominent Central Valley wine growers. They played on the football team together. Fred once booted a 42-yard field goal in a game at Kezar Stadium. Like Mondavi, Fred went on to Santa Clara University, where he graduated in 1965 with a triple major in finance, marketing, and accounting.
"No one who knew him ever doubted that Fred would do well in the wine business," says vintner Don Sebastiani, the son of another wine legend, August Sebastiani. Don recalls the many times his father dragged "Freddy" home to lunch when Fred was in his 20s, and marveled "at how someone that young could go toe-to-toe with him discussing almost any facet of the wine business." Boy, if he only knew about Two Buck Chuck back then!
Unlike those of Gallo, Mondavi, and Sebastian (names that became synonymous with California wine) the Franzia legacy suffered a painful breach, one that friends say profoundly influenced Fred Franzia's relentless drive to become perhaps the single most influential player in the California wine industry (Two Buck Chuck).
Turning a deaf-ear to other family members, three of his uncles sold their shares of the Franzia winery to investment bankers in 1971 in a deal that netted them a mere $1 million a piece. I bet they wouldn't have sold out if they knew Two Buck Chuck was in their future! In 1973, after taking the company public, the new majority owners - over objections from the two remaining brothers, including Fred's father, Joe - sold the winery to the Coca-Cola Bottling Company of New York for just under $50 million. As part of the arrangement, the Franzia's were barred from using their name in new wine making ventures.
The Coca-Cola Bottling Company didn't last long in the wine business. In 1981, Coke of New York sold the Franzia operation and its other wine interests to The Wine Group, a privately held producer of bulk wines based in San Francisco. Now, this company produces bargain-basement bag in a box wines called Franzia that you see in the stores today. They don't compare to Two Buck Chuck in my opinion. Printed on the boxes are the story of Giuseppe and Teresa above the signature of Carlyse Franzia, Fred's cousin and the offspring of one of the brothers who sold out in 1971. She is married to Arthur Ciocca, The Wine Group's publicity-averse principal owner.
So you see the box wine Franzia doesn't really have anything to do with Fred Franzia today. After the sale of Franzia Brothers Winery in 1973, Fred joined with brother Joseph F. and cousin John Franzia Jr. and started Bronco Wine Company, short for "brothers and cousins", in Ceres, California.

So you say, where does Two Buck Chuck
fit into all this? Well… Let's move on.
Bronco owns over 35,000 acres of vineyards, most of which is located in the Central Valley of California. They have production facilities and storage in Madera, Escalon, Sonoma Valley, Napa Valley and Ceres and have the capacity to produce 61 million gallons of wine annually. Total annual sales are approximately 20 million cases. Whoa! That's a lot of wine!
The Bronco Wine Company maintains over 50 brands of wine, including, that's right, you guessed it, Charles Shaw, Two Buck Chuck is one of them! They are the forth largest wine producer in California.
In 2002, Bronco's Charles Shaw label, created for the Trader Joe's chain, made history, and a name for itself, as the first "super-value" wine, affectionately dubbed "Two Buck Chuck." $1.99 a bottle. It's a dollar more East of the Rockies. They are sold exclusively through Trader Joe's specialty markets.
The relationship of these two companies, Bronco Wines and Trader Joe's seems to be a natural one. TJ's as it's known by its regulars, has purchased and sold great quantities of wine with its own label as well as a large selection of other brands.
Bronco has added to this process by providing its wines at a low cost. The cost of the wine to Joe's is even less because Bronco acts as its own distributor. They both get what they want. Bronco moves tons of wine through the remarkable marketing of Trader Joe's and Trader Joe's gets exclusive brands with almost an endless supply and at a very low cost.
Following the remarkable success of Two Buck Chuck, Bronco Wine Company has introduced "Down Under" by Crane Lake, a Chardonnay imported from Australia. The price of the new addition is $2.99 in the western U.S.
---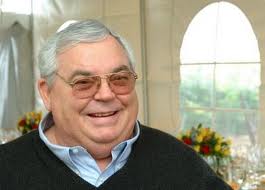 Fred Franzia
The Bronco partners, Fred, Joseph and John Franzia have produced a family empire that should continue for generations. Even now, 9 of their 13 adult children are in the business.
---
Go Back to California Wine from Two Buck Chuck

---
Thank you for visiting Trippin' Thru California! Hope you enjoy discovering new "things to do" and "fun places" as much as I do!


Welcome to California!