Aperitif
The Appetizer Drink
An aperitif (properly spelled apéritif in French) is an alcoholic drink that is served before a meal to stimulate the appetite. This French word is derived from the Latin verb aperire, which means "to open."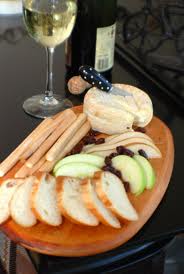 Its job is to refresh or tickle the palate, rather than bludgeon it, which is why dry white wines or sparkling wines are the popular option. The ultra-sophisticated dry martini or refreshing gin and tonic are also great stimulators but they aren't as popular.
These drinks are commonly served with something small to eat, such as cheese, crackers, olives, bruschetta, peanuts, bread, fruit, veggies or other simple appetizers. You can think of these drinks as a beverage appetizer or hors d'oeuvre.

In France, this traditional drink is a real friendly ritual and has become a favored "moment." It is more common at family or friend gatherings and it is also widely followed at restaurants today. This "moment" is now still considered as being a perfect, convivial pre-dinner time to relax and socialize. It should make you feel relaxed and pampered.

Tidbit: The French food traditions suggest that guests clink glasses or offer a toast during the aperitif, complimented with a friendly Tchin Tchin! (The equivalent of the British "Cheers"). Sante! Is another usual wish you can say, echoing the Spanish Salud!, which means you wish your guests will be healthy.
So what's all this got to do with California? This French custom is renowned worldwide! People do it everywhere. To really stimulate the appetite, you've got to choose the right one. Keep it light, nothing too heavy.

---
Which wine to choose
The best way to kick off the evening would be to go with something light, like Pinot Grigio, Sauvignon Blanc, Champagne, Chablis, Riesling or my favorite, an un-oaked Chardonnay. Stick to whites that are young, fresh and crisp. Nothing too heavy.

---
Which Wine Not to Choose
Nothing too oakey and nothing too old. Full bodied barrel-aged whites need food just as much as full bodied reds. These choices would not be a great way to stimulate the appetite. Just keep it light.

---
Have you ever had an Aperitif before dinner?
Do you have a great story about this? Share it!
---
Enjoy an aperitif before your meal

Go Back to California Wine from Aperitif

Thank you for visiting Trippin' Thru California! Hope you enjoy discovering new "things to do" and "fun places" as much as I do!


Welcome to California!