Knott's Soak City Water Parks
Orange County - Palm Springs
Two Soak City locations in Southern California! For directions, type in your starting point below. Note: Location in Chula Vista, San Diego is now Seaworld Aquatica Water Park.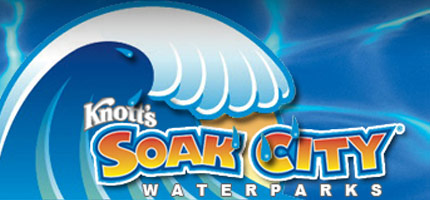 As the temperature rises, everyone will be looking for a place to cool off! Knott's Water Parks are the best place to get drenched and have some cool family fun. You might as well make a weekend out of this trip, Knott's Berry Farm is right next door!
8039 Beach Blvd. Buena Park, CA 90620
---
1500 S. Gene Autry Trail Palm Springs, CA 92264
---
---
Hours
The water park in Chula Vista San Diego is now Seaworld Aquatica Water Park.
---
Admission
These links will open a new window and take you to a page where you can buy tickets online. Regular tickets online in advance are $25.99 for a single day ticket. It'll cost you $34.99 at the gate.
---
Attractions
Gremmie Lagoon or the Toyota Beach House is a hands-on water playground for the pint-sized surfers.
Catch a wave at Tidal Wave Bay. A 750,000 gallon wave pool or relax on the lazy Sunset River.
Pacific Spin - Exciting tube slide that includes a 132 foot long tunnel that drops riders 75 feet into a 6 story funnel, swishing you back and forth through 5,500 gallons of swirling water, then ends in a thrilling waterfall splash!
6 slides at Banzai Falls or three 63 foot high vertical chutes at Old Man's Falls for the speed fans. 
---
Click on each Hotel to find the best deal, compare prices, and read what other travelers have to say about these. I have not personally stayed at any of these hotels so please read the reviews before booking your trip.
---
Thank you for visiting Trippin' Thru California! Hope you enjoy discovering new "things to do" and "fun places" as much as I do!


Welcome to California!

Go Back to All Water Parks from Knott's Soak City
Note: This information was accurate when I published it, but can change without notice. Please be sure to confirm all rates and details before planning your trip.
Full Disclosure Trippin' Thru California does make a small commission if you purchase a Sightseeing Pass through my links. After all, this is one of the ways I am able to provide you all the free content on this website. More importantly, being a partner in these programs allows me to offer you special sales and discounts. So often, you will receive a better price than going directly to their website, and you will never pay more. Please know the information provided on this page is unbiased and accurate to the best of my ability.