Port Hueneme
California

(Wy-nee'mee)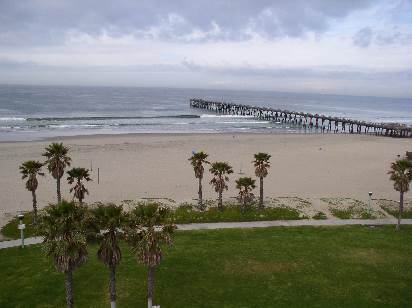 The only beach in Port Hueneme is Hueneme Beach Park. Its pretty big though, 50 acres, lots of picnic tables, barbecue pits, a 24 hour fishing pier, sand volleyball courts, lifeguard protection, walking paths and the stately Alaska Air Flight 261 memorial sundial.

This is the home of the Pacific Seabees - Naval Construction Battalion Center and the home of the largest Ventura County employer in the U.S. Navy-Naval Base Ventura County. It is the largest deep-water harbor between Los Angeles and San Francisco.

The Toni Young Hueneme Beach Festival is held every August at Hueneme Beach Park. Admission and parking are free. Bands, rides, games, food booths, arts, crafts and a children's area. No dogs are allowed on this beach. 805-986-6542
The Point Hueneme Lighthouse was built in 1941 and is owned by the U.S. Coast Guard. On the 3rd Saturday of the month from February thru October, the lighthouse is open for tours. 10am to 3pm. The last tour is at 2:30. Admission is free.
Hueneme Historical Museum is open from 9am to 3pm Monday thru Friday. Tours are by appointment 805-488-2023 You'll find historical artifacts, photographs and information on the history of Hueneme.

There really isn't a whole lot going on in Hueneme and I certainly wouldn't consider it to be a vacation destination. Just sayin'.

---
Getting there

---
Places to stay

Click on each Hotel to find the best deal, compare prices, and read what other travelers have to say about these. I have not personally stayed at any of these hotels so please read the reviews before booking your trip.
These links will take you to the trip advisor website where you'll be able to read the reviews and compare prices. trip advisor scans through tons of hotel booking sites to find the best deals possible.
Reading the reviews is so important. I think people are pretty honest when it comes to writing reviews. Just because the pictures might look nice, doesn't mean the hotel is!

---
Still didn't find something within your price range? You might want to consider this... How about swapping your home with someone else? 41,000 people in 149 countries are doing it!
A vacation anywhere in the world doesn't have to cost more than staying at home. Live like a local, not a tourist. It's fun and easy. And you can do it all online! Might be worth checking out as an option for you.
Travel anywhere...Stay for FREE! Sounds to good to be true? All you have to do is swap your house with someone who wants to go on vacation in your area while you stay in their house in the area that your looking to visit.
It's a pretty cool idea! and can save you a ton of money if you're willing to exchange houses. Just a thought.
Swap your home for vacation! Save 30% on Home Exchange services using code: dealshe72010
---
Go Back to All Southern California Beaches from Port Hueneme

Thank you for visiting Trippin' Thru California! Hope you enjoy discovering new "things to do" and "fun places" as much as I do!


Welcome to California!