Beautiful Beaches in
La Jolla California
Beaches in La Jolla California are:
Black's Beach
Calumet Park
Children's Pool Beach
La Jolla Cove

La Jolla Shores (aka) Scripp's Beach
Marine Street Beach
Torrey Pines State Beach
Windansea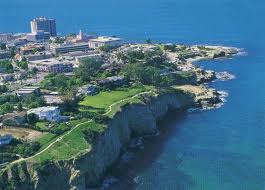 La Jolla, Spanish for "The Jewel" has some of the most picturesque beaches and beachfront hotels in the world. It offers world-class hotels, attractive beaches, upscale shopping, art galleries and boutiques, restaurants and world famous golf courses cover this stretch of the Pacific coastline.
It is a hot spot for surfers, tourists, spa goers and nature lovers alike. Treat yourself to a massage and facial at a day spa or stroll the coast and take in the stunning emerald blue beaches and coves. La Jolla California is not only a destination in itself but it also makes a great base camp for exploring other San Diego attractions.
La Jolla California is an affluent community is known for its luxury homes, fine dining and upscale shopping. La Jolla had the highest home prices in the nation in 2008 and 2009; the average price reported was $1.842 million in 2008 and $2.125 million in 2009.

---
Getting to La Jolla California
Directions from the North Take I-5 south and exit at La Jolla Village Drive. Head west on La Jolla Village and turn left onto Torrey Pines Road, which leads to La Jolla Shores Drive and Prospect Street.
From the South and East Take I-5 north to La Jolla Parkway. Continue into La Jolla and turn right onto Prospect Street.
From San Diego Airport Head east on North Harbor Drive to Laurel Street and turn left. Follow signs to I-5 and go north approximately 7 miles to La Jolla Parkway. Continue into La Jolla and turn right onto Prospect Street.

---
Windansea Beach Down the hill, past the ritzy homes, restaurants, boutiques and hotels, lies Windansea Beach flanked by sunbathers and surfers on hot summer days. With its sandy beach, sandstone cliffs, and incredible surf breaks, Windansea has been a popular surf spot as far back as the 1940s. And since the 1960s it's been a gathering spot of the Windansea Surf Club.
There is a palm-covered shack on the beach that was built by surfers in 1946 and it is now a San Diego historic site. The parking lot only has a few spaces and there are no restrooms, showers or drinking fountains.

---
La Jolla Shores Beach offers as much ocean recreation as you can handle. It's the largest and most popular beach in La Jolla and gets most crowded between 10:00 a.m. and 4:00 p.m. on most summer days attracting both residents and vacationers. It's a one mile stretch of shoreline with parks and picnic areas and is home to world class resorts.
The north end of the beach, better known as Scripps for the Scripps Institute of Oceanography where its aquarium of live marine life is open to the public, and its landmark pier (not open to the public) is favored by body boarders and intermediate surfers. If you're after a bit more solitude and tranquility visit the Shores in late afternoon and hang around for some spectacular sunsets.
La Jolla Shores also features a boardwalk that spans a length of the beach and is great for bicycling, rollerblading, jogging and walking. It has green lawns dotting hillsides, bougainvillea blossoms in orange, white and pink, and lots of palm trees. Here you will find some of the most sought after real estate in La Jolla California including luxury oceanfront homes and world class resorts and hotels.
Combined with its splendid views and mild waters La Jolla Shores is truly the perfect vacation destination for the whole family. Just a short distance away is downtown La Jolla where you'll find an abundance of shopping, full-service hotels and restaurants.

---
---
Blacks Beach is San Diego's most notorious and least visited beach. It can be found in the vicinity of the University of California San Diego campus. A gated private road, jointly owned and maintained by the residents and the university, leads to the beach off of La Jolla Farms Road. Black's Beach lies north of La Jolla Shores and South of Torrey Pines State Beach.
Stately eight-figure mansions and state-of-the-art medical research labs now line the bluffs where stables and pastures once lay. Unless you can procure a much coveted key to the gate, you will have to park above and walk down the road. A more direct but difficult route is the dirt trail beginning at the Torrey Pines Flight Park (the Glider Port) at the end of Torrey Pines Scenic Drive a mile north of the Farms off Torrey Pines Road.
The beach is virtually ensconced by the rock formations and bluffs that rise nearly 300 feet from the sea, creating a quiet and secluded area to enjoy the water. It is well known for its history as a nude-beach, Black's is a local favorite for those seeking solitude and laid-back atmosphere. Although not officially sanctioned beachgoers enjoy this beach by going nude, however there are signs that recommend specific areas for sunbathing.

---
Children's Pool Beach in La Jolla California - Close to downtown La Jolla, the Children's Pool, or the "Casa," as locals call it, is a tiny cove protected by a concrete breakwater which was created for children and visitors to enjoy. What started as a safe haven for children has now been taken over by sea lions and seals. They come here to rest, sunbathe and even have pups.
Now visitors can sunbathe and enjoy the added bonus of an ongoing marine mammal show courtesy of the sea lions and seals that play in and around the shore or at Seal Rock, their offshore reserve. They enjoy the attention they get, but do not like to be approached.

---
La Jolla Cove with its Mediterranean backdrop, is among San Diego's most sheltered spots nestled between steep sandstone cliffs and accented by gentle waves, a soft sandy beach, tall flowing palms and stunning sunsets. In La Jolla California, it's a swimming, snorkeling and diving paradise! No surfing permitted here.
The Cove's swimming area extends outward about a half-mile to form a defined path for long-distance swimming. The Cove attracts serious open-water swimmers and is a selected site for several competitive swimming events. Surf boards, boogie boards, motor craft, kayaks, flotation devices and even inflatable water toys are prohibited.
This area attracts snorkelers and scuba divers because of the clear water visibility, kelp beds, under water caves, gentle rolling waves and an abundance of reserve protected underwater sea life. Divers often come face-to-face with many colorful fish including, sand sharks, sea bass, leopard sharks, moray eels, bat rays, stingrays and some of the biggest lobsters you'll ever see.

---
Marine Street Beach is one of the prettiest beaches in La Jolla California but it is not family-oriented. It is near an up-scale community where there is a small cluster of high-end clothiers, shops, galleries, fine restaurants, active nightlife and hotels. There are no public restrooms or picnic spots and the rough surf is not safe for children.
It's legendary to body boarders and body surfers because of its thunderous waves that crash right at shoreline. Inexperienced body surfers are advised to be very careful dealing with the rough waves. Lifeguards are at the beach during the summer months and some peak weekends during the spring and fall.
Marine Beach makes for perfect sunbathing, with its relative privacy, spectacular views and gorgeous white sand. Early morning is a great time to take a stroll along the beach where you will be rewarded with awesome scenic views.
You should plan to get there early as there is no public parking at the beach, you'll need to find the most convenient street parking.

---
Torrey Pines State Beach is a 1750 acre reserve dedicated to preserving its namesake, the Torrey Pine tree (which grows only here) and other indigenous wildlife in its native environment. It's not your typical beach outing, but certainly a memorable one. Virtually everything in Torrey Pines is protected, from the Penasquitos river valley on the east side of the highway, to the State Park lands on the west, to the Underwater Ecological Reserve offshore.
Beautiful sandstone cliffs rise 300 magnificent feet from the Pacific Ocean to greet miles of walking paths along the bluffs at Torrey Pines State Beach. Hiking trails take visitors through the reserve among the Torrey pines (one of the rarest varieties of pine in the world), wildflowers, and other plants and animals with panoramic views of the ocean. Children love to collect starfish near the lagoon, and there are all kinds of sea creatures to entertain and excite every member of the family.
This beach offers showers, clean restrooms, surfboard rentals, hot food and delicious snacks and convenient parking directly off the highway. And also, provided by the Visitor's Lodge located above the beach, there is Wi-Fi service along all but the southern portion of the beach.
Torrey Pines State Beach delivers first class fun and world class beauty no matter if you are wading with the kids or surfing like a pro, but be careful because the surf can be powerful at times. Lifeguards patrol the beach areas however visitors should take note there are no permanent lifeguard stations at Torrey Pines.

---
Hotels in La Jolla California
Compare prices, find the best deals and see what other travelers have to say about these hotels by clicking on them. I have not personally stayed at any of these hotels so please read the reviews before booking your trip.
---
Go Back to all Southern California Beaches from La Jolla California

---
Thank you for visiting Trippin' Thru California! Hope you enjoy discovering new "things to do" and "fun places" as much as I do!


Welcome to California!

Hope you enjoyed reading about La Jolla California Beaches. There are so many great beaches in California. Be sure to check out the beaches in central and northern California as well.